---
Ingredients
✔ broccoli - 650 g
✔ broth - 350 g
✔ cream - 200 g
✔ onions - 200 g
✔ butter - 50 g
✔ garlic - 2 cloves
✔ salt - 1/2 tbsp.
✔ freshly ground pepper - 1 tsp.
✔ nutmeg - 1/2 tsp.
🕜 1 hour
👥 4 servings
Nutriotion*: 2/5/5
Calories*: 65 kcal
* per 100 grams of raw product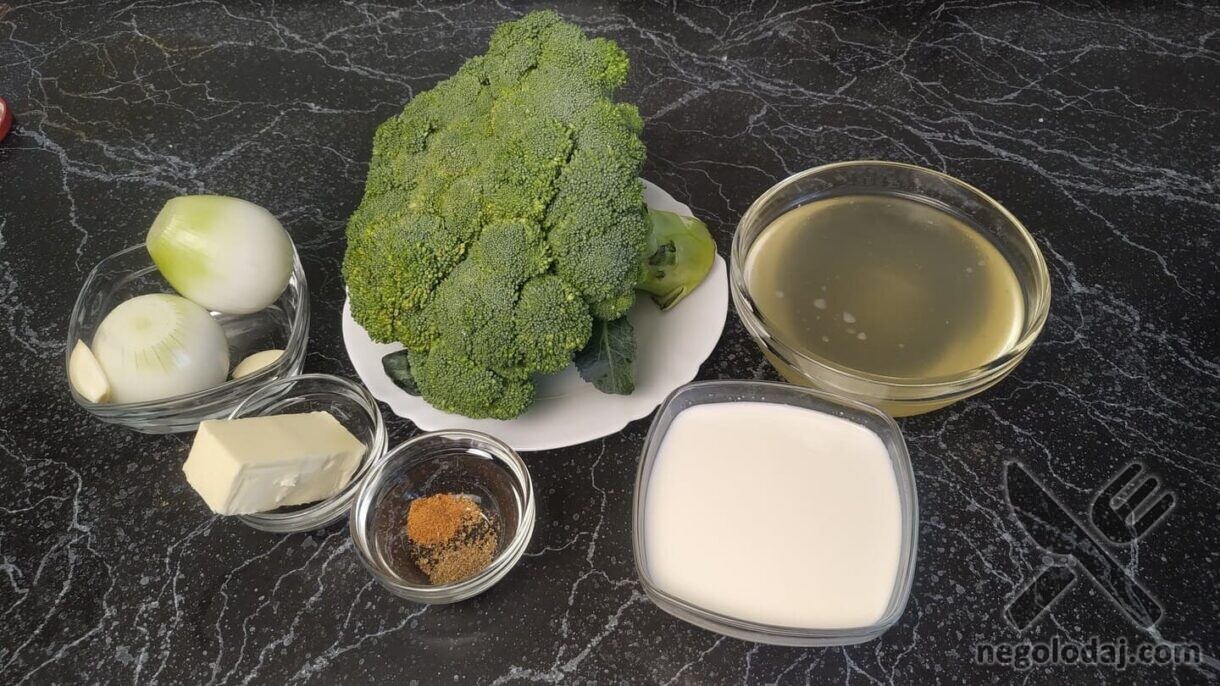 Directions
Wash and chop the broccoli.
Fry chopped onion and garlic in butter.
Sauté the broccoli stalks with the onions.
Add broccoli florets and broth. Cook for 15 minutes.
Whisk until smooth. Add cream and spices, and whisk once more.
Bring the puree soup to the boil and leave to stand for 10 minutes.
Enjoy a delicious diet cream of broccoli soup.
---
Full recipe
There are many delicious diet recipes in the world that we rarely cook. And this is a big mistake, because by eating healthy and tasty dishes, we get not only moral pleasure, but also help our bodies to be healthier.
One of the culinary trends that fascinates us is cream soups. So today we are going to share another diet soup puree, with broccoli as the main ingredient.
And for those who haven't been following our blog, I remind you that earlier we featured a recipe for an incredibly delicious cream of mushroom soup.
First, let's choose broccoli. By the way, it is also called Calabrese broccoli and is a close relative of cauliflower – as evidenced by both appearance and taste. The cabbage should be green with no yellowed or withered inflorescences. Fresh broccoli is hard enough and does not fall apart.
Wash the cabbage well under running water to wash out all the dirt and sand. If you want a "crunchy" cream soup, it is better to prepare croutons.
Now carefully cut off the inflorescences and set them aside. Very large bunches can be cut into several pieces.
The remaining stems are cut into small cubes.
When you have prepared the cabbage, you can start making the cream of soup. First, we put on the fire a pan with a piece of butter (50 g).
If you do not use butter, you can cook with vegetable oil, but it will lose a little "creaminess" of the finished dish. While the butter is melting, peel and dice the onions (200 g). I have small onions, so for this weight I took 2 pieces.
It is better not to take too much, because the cream soup is quite delicate, and with the help of onions we only bring sweetness, not make it onion. Also finely chop the garlic (2 cloves) and send everything to the pan.
Fry for 7-10 minutes on low heat. During this time, the onion will become transparent, which means it will lose its spice and gain sweetness.
If you have a large saucepan or pot with a thick bottom, it is better to fry onions directly in them. Because next we will add the ingredients and cook the dish, and it is almost impossible to do this in a skillet. Also a similar recipe can be cooked in a multicooker.

Tip
It's time to add the chopped broccoli stems to the onions. Stir the contents so that the stalks are dipped in oil and do not stick.
Continue roasting over low heat for another 10 minutes. Since the stems are tougher than the inflorescences, they need a longer heat treatment.
After 10 minutes, throw the contents of the pan into a saucepan and add the broccoli florets. If you originally cooked in a sauté pan, just add the cabbage.
Also at this stage we pour broth (350 g) to the vegetables. I use a light chicken version, boiled on soup kits. Of course, you can add just water, but then the cream of broccoli soup will not be as tasty as intended. My broth doesn't completely cover the vegetables, but it doesn't need to. Bringing the contents to a boil, the cabbage will soften a little, and the florets will begin to steam.
Keep the pot on the heat for another 10 minutes, with the lid on, so that the broccoli is cooked. Now we need to whip all the simmered ingredients to a homogeneous state of puree. I use an immersion blender and whip directly in the pot, but no one is stopping you from using a blender with a bowl.
There is also an option to grind everything through a sieve – but it is very long and laborious. As a result, we get green vegetable porridge. Add cream (200 g) and spices: salt (½ tbsp), freshly ground pepper (1 tsp) and nutmeg (½ tsp). Change the amount of salt depending on the saltiness of the chicken broth.
I prefer to take 10% cream. This is enough, unlike the variant with milk, in order to achieve a creamy effect in combination with butter and leave the cream soup dietary. Once again whip the whole mass until homogeneous.
Finally, bring the broccoli puree soup to a boil and let it stand for 10 minutes.
During this time, all the ingredients will finally exchange flavors and aromas. Often the soup is served with croutons, but for those who keep the diet I recommend using healthy breads.
As you can see, the dish is low-calorie, yet tasty and unconventional. The caloric content of one portion is less than 300 kcal, which means that you can eat this soup without worrying about extra pounds.
Bon appetit! Don't starve 😋