Healthy Oven Baked Chicken Strips
---
Ingredients
✔ chicken fillet - 2 pcs.
✔ oatmeal - 100 g
✔ egg - 2 pcs.
✔ salt - 1 tsp.
✔ paprika - 1 tsp.
✔ red pepper - 1 tsp.
🕜 45 minutes
👥 4 servings
Nutrition*: 16/4/9
Calories*: 140 kcal
* per 100 grams of raw product
Directions
Slice the fillet lengthwise, in oblong slices.
Beat egg with spices.
Prepare breading of oatmeal and flour.
Alternately dip chicken in egg and oatmeal. Spread out on a baking tray.
Bake chicken strips in the oven, 30 minutes at 180.
Enjoy a juicy diet dish.
---
Full recipe
One of the popular fast food dishes is strips and the most famous of them is KFC strips. But what are they? They are small, breaded chicken strips sliced lengthwise along the fibers. This is the form of slicing that distinguishes them from nuggets, which are sliced crosswise. Therefore, to make strips we need chicken fillet, which, if possible, cleaned of fat and foil.
Next, wash the chicken, wipe it with a paper towel, and cut it into oblong pieces, 4-5 cm long.
Sprinkle the fillets with salt, pepper and paprika and mix well. Those who like spicy food can add hot peppers to make the chicken more spicy. Personally, I like spicy strips better. If you're not a fan of spicy, add some black pepper for flavor.
If you want to add a lot of herbs and peppers, it is better to add them to the breading rather than in the egg. In this case, the seasonings will not settle to the bottom with the liquid and will be more evenly distributed on the fillets, together with the breading.
Now we proceed to the preparation of the liquid for breading. First, whip the egg. We will dip the strips in this mixture.
For our dish to be dietary, we will make breading with 50 grams of oatmeal and 50 grams of oat flour.
It is best to grind the oat flakes in a blender for a few seconds. This will give you the perfect size breading, which is something between flour and whole oatmeal.

Tip
Pour the oatmeal and oat flour onto the plates. If you don't have oat flour in the house, just make it with a blender, grinding it to a fine fraction, as I did.
Now we dip the pieces of fillet one by one in oat flour, egg, oatmeal.
Place the ready strips on a baking tray lined with parchment or a silicone mat.
I only dip some of the chicken in egg and flour to make them more dietary. The fillet itself remains as juicy as in the oatmeal breading.
There must be a few centimeters of distance between the strips, otherwise you get a chicken pot pie.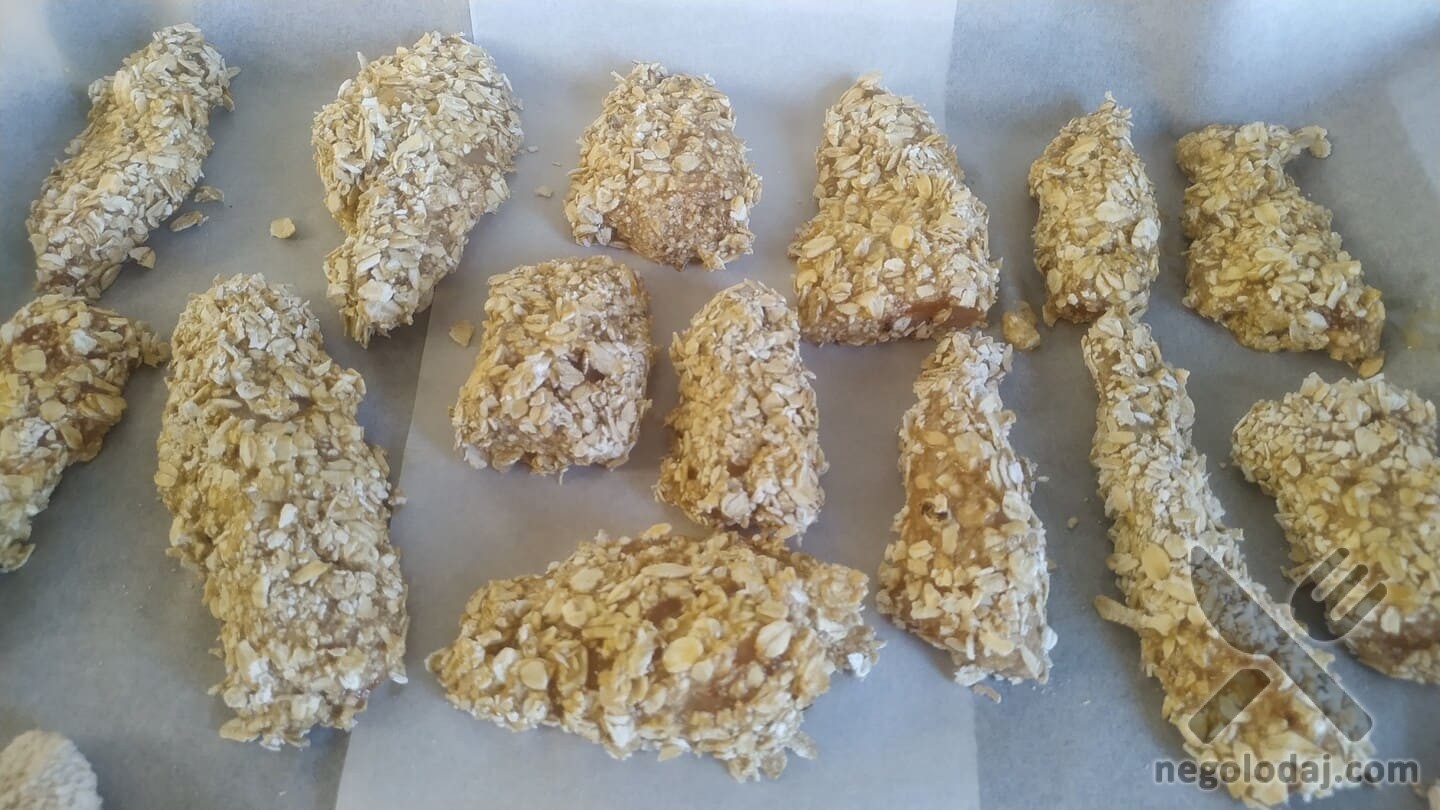 Then we put the tray in the oven heated to 180 degrees, bake for 15 minutes, turn it over and leave it for another 15 minutes.
After the time has passed, take out the chicken strips and enjoy. They can be eaten both warm and cooled. The fillet prepared in this recipe is low-calorie and quite juicy.
Chicken can be served with sauces that can be consumed on a diet, such as Tzatziki.
Using my instructions, you can easily make chicken strips at home yourself.
Bon appetit! Don't starve 😋