Creamy Shrimp Spaghetti Recipe
---
Ingredients
✔ spaghetti - 200 g
✔ mushrooms - 200 g
✔ shrimps - 200 g
✔ milk - 130 ml
✔ philadelphia cream cheese - 120 g
✔ butter - 100 g
✔ garlic - 2 cloves
✔ dry basil - 6 leaves
✔ salt - 1 tbsp.
🕜 40 minutes
👥 4 servings
Nutrition*: 5/10/14
Calories*: 170 kcal
* per 100 grams of raw product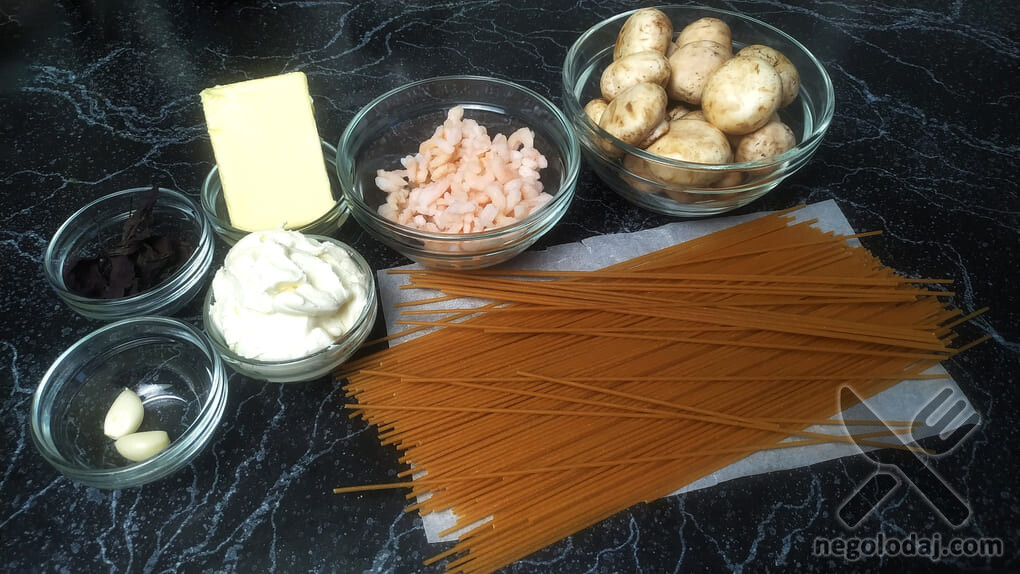 Directions
Fry champignons cut into butter.
Fry garlic in butter separately. Add the cream cheese and stir until homogeneous.
Pour hot milk and add dried basil. Cook for 2 minutes over low heat.
Add shrimp and mushrooms to the sauce.
Boiled pasta add to the sauce pan and stir well.
Eat deliciously delicious and fragrant pasta with seafood in garlic and cream sauce.
---
Full recipe
Pasta is one of the most popular fast dishes, along with potatoes, in the CIS countries. Dropped a packet of vermicelli in boiling water, and in 10 minutes you have a full hearty lunch. And if there are still meatballs with sauce in the fridge or if you quickly made roast with turkey, at least treat the guests.
But sometimes nobody prevents you from pampering yourself with a more refined variant of pasta, in a Mediterranean manner. One such recipe, spaghetti with shrimps and mushrooms with cream and garlic sauce, we will cook.
We will cook 2 separate parts – pasta and sauce. Since the sauce is made longer, we start with it. For starters, I'll wash well and slice champignons (200 g). It is possible to cut it in cubes or slices. I prefer cubes the size of shrimp when they are small and do not require grinding. The even slicing of the ingredients gives the finished dish a visual balance. Fry the mushrooms in butter (50 g) for 10 minutes.
The fire should be medium, so that the mushrooms, after time, have a golden look. At the end of cooking, add a pinch of salt and stir. After cooking, put the mushrooms in a separate plate.
In the same frying pan melt another 50 grams of butter and start roasting finely chopped garlic (2 cloves).
We only need 2-3 minutes for a fantastic aroma to appear in the kitchen and garlic to start to gold. It's time to add the cream cheese (120 g). I use Philadelphia, but you can add any other.
Mix the cheese until it dissolves completely and produces a homogeneous mass. To avoid scratching the frying pan while stirring the ingredients, I recommend using silicone spatula.
Do not use cheap copies of cream cheeses, as they contain a lot of unnecessary additives and can be boiled with flakes. If there is no cream cheese, it is better to replace it with cream and flour, making a quick béchamel.

Tip
Now add to garlic sauce hot milk (130 ml) and dried basil (1 tsp). The milk will make our sauce more liquid, without worsening the creamy taste like water. And basil is the spice that will add that Mediterranean charm to the seafood. I also recommend to try adding a pinch of oregano and not too spicy fresh ground pepper.
Cook the sauce on a small fire, constantly stirring. When the cream and garlic sauce is almost ready, throw in shrimp (80 g) and mushrooms.
Instead of shrimp you can use a sea cocktail: mussels, squids, octopuses. I had frozen shrimp, which are ready to eat immediately after defrosting, so I add them immediately. If you cook from raw seafood, you can quickly boil it in boiling water and add it to the sauce. Together with shrimp, add the pre-fried mushrooms.
We mix everything well and our sauce is finally ready.
I got a poor quality version of the shrimp, so they lost ⅔ their weight after defrosting. You can safely take 200-250 g of seafood for the specified number of other ingredients.

Fact
7-10 minutes before the end of sauce preparation, we can cook pasta. Here I can't limit you to a specific type of pasta, because there are dozens of them, but personally I most often cook spaghetti or fettuccine (nests). How much to cook vermicelli is better to read on the package, because the cooking time depends on the type of flour and the type of pasta. The main thing is to bring the water to the boil, salt it (1-2 hours) and add the pasta.
On average, spaghetti will be fully ready in 7 minutes. Drain the spaghetti and pour it into the sauce pan. Thoroughly stir everything and leave it to soak in flavors and aromas for 2 minutes.
In the case of the nests, catch them by seaming, put them on a plate and pour sauce on top. As a result, we have a chic restaurant dish, which was prepared with own hands in just 15-20 minutes of personal time.
The seafood is perfectly combined with delicate cream and mushroom flavor, garlic and basil flavor, and makes the pasta really delicious. Periodically spoil yourself with such simple but refined dishes, and your life will be even more beautiful.
Bon appetit! Don't starve 😋